Implications of the Just-Passed $1.2 Trillion Infrastructure Bill
The $1.2 trillion infrastructure bill, even though the dollars going towards tangible projects will be slightly less than half that amount (approximately $500 billion), and the spending will be spread out over five years, is no small matter.
Current annual spending on what might be termed 'hard' infrastructure (i.e., mainly engineering works such as roads, bridges, transit systems, sewers, water mains, treatment plants, communication systems, and power) will be about $350 billion.
Adding in 'soft' infrastructure (schools and hospitals) raises the annual 'actual' figure close to $500 billion, but educational and medical facilities are not a primary focus of the newly passed package.
The $500 billion mentioned in the opening paragraph relative to $350 billion usually allocated per annum suggests the plan is to squeeze another year-and-a-half worth of spending into the next five years.
This will provide a tremendous stimulus for those segments of construction that are inclined towards 'civil' work, but it will also mean that prices for steel and other important input materials will not be easily reduced.
The bill covers many specific areas of construction spending. Foremost is the $100 billion that will go towards roads and bridges. (The bridges portion has been estimated at $40 billion. )
Receiving between $40 billion and $70 billion each will be efforts to modernize public transit; improve and expand passenger and freight rail; extend broadband service to all parts of the country; upgrade water delivery and effluent takeaway systems (including the replacement of existing lead pipes); and more fully embrace renewable power generation, with accompanying new transmission lines.
Airports and ports will receive smaller but still significant amounts. Major funding will also be provided for cleanups of 'brownfields' sites, such as abandoned mines or gas wells.
Modernizing public transportation will include financial support to convert buses to electric propulsion, and away from diesel.
The overarching goal of the infrastructure improvement plans is to make sure that any project that proceeds will be resilient. It should be capable of withstanding hurricanes, wildfires and cyber attacks.
In addition to the above, money will also be available for individual projects of super-sized. The Hackensack River Tunnel will be the first priority. President Biden has endorsed the latter and it is currently going through the environmental review process. These jobs are part of the Gateway Project, which aims to improve rail traffic from Boston to Richmond.
Not to be missed is the federal establishment half a million electric vehicle charging stations throughout America.
The Biden Administration is optimistic that it will be easy to find the funds for its infrastructure program. It doesn't have to be dealt with all at once. It can be spread over a period of ten years, according to current thinking.
There are always unexpected conundrums.
For example, when the government makes a concerted push to encourage electric vehicle adoption, it loses money in two ways. The subsidies are not insignificant and offer incentives to buyers. The second is the loss of the gallon-linked gasoline tax on EVs.
The extra cost and the disappearing revenue must be covered elsewhere. While this is not yet a major problem in America, it is causing serious problems in Europe.
Table 1: Census Bureau's Latest Put-in-Place Construction Spending Numbers – September 2021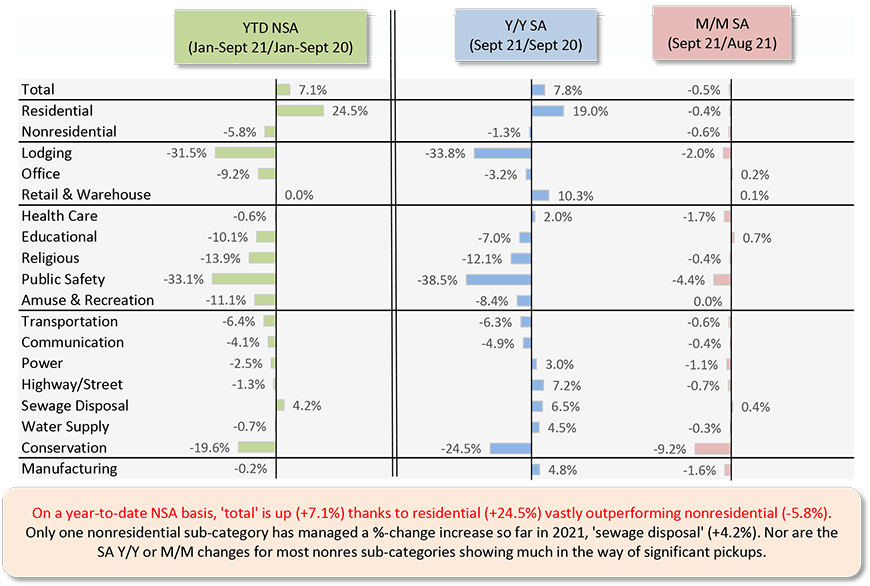 NSA is not seasonally adjusted / SA is seasonally adjusted.
Data source: Census Bureau.
Chart: ConstructConnect.
.
About Alex Carrick
Alex Carrick serves as Chief Economist at ConstructConnect. He has presented throughout North America about the U.S., Canadian, and global construction outlooks. Mr. Carrick has been with the company since 1985.
Connect with Alex Carrick
https://www.constructconnect.com/blog/implications-of-the-just-passed-u.s.-1.2-trillion-infrastructure-bill
Read More